Friday night I forced myself to go out - and I actually had a fun time, stayed out late, and didn't drink a drop of alcohol :o) Shocking I know. We went to a cousin of one of Keith's coworkers house. Aside from all the smoke, it was pretty fun. I had a chance to make some jokes in Spanish and show off my super awesome Spanish skills.
Saturday we chilled during the day, but at night we headed to an Italian joint for dinner (yummy calamari and caprese salad and fabulous red wine) and then went to the K-Paz concert. It was in a Soccer Field - with a big giant tent over most of the crowd. We stuck around the outside areas though because it was less crowded. The music was fun, the dancing was super fun too (I even had a stranger ask me to dance, wooo HOOO!) and we had a good time until it started to rain. Then I got a little crabby. So, a couple of us went back to the car to wait for the other hard core dancers in the rain, and had ourselves a couple beers - but then I started to get cold, so I got really crabby......so, we got a ride back to our car and headed home. I stayed out past 1AM for two nights in a row - I'm a mega partier!
Today we didn't do a whole lot, but we did see Superman in 3D at the IMAX theatre in Mexico City. Well, actually Santa Fe, which is right before DF...we got there about 20 minutes before the movie, and there were only 8 tickets left! We managed to get in and get decent seats, and I must say I really enjoyed the movie! Keith didn't like Kate Bosworth as Lois Lane, but I thought she was OK. The little boy reminded me a LOT of Austin....which was funny.
Speaking of Austin - I got a layout done of hime for a challenge....He's way too cute, Mayer forehead and all :)
Papers - Jen Wilson - Sofisticated Tide Pool - Longing for the sea, coastal strips, sand patterns, seaweed; chipboard stitched circle - amy teets; sand scratch overlay, paperscrap, summer word art - jen wilson; paperclip - shabby princess; staples - scrapsy daisy; Sketch - Amy Teets; Breeze word art - Lauren Bird
Also got another one done of Pat O'Brien and I :)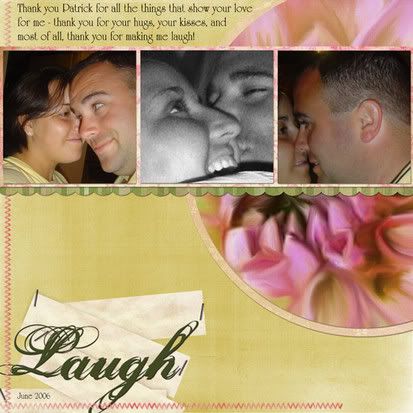 Credits: Jen Wilson - Seasonal Scraps - Apple Blossom; Font - Occidente and Hurricane; Sketch - Gina Miller